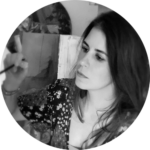 B. 1982. 
Upon noticing an artistic interest and talent in her early years, Marilupe began painting at a very young age. She received her first professional oil color set at the age of 12 as a present from her parents.
She has a degree of Graphic Design; never leaving aside her interest in painting and art, she took courses of painting and sculpture in her university years.
It was a few years later, that she discovered the work of artists who have inspired her career. She spent a season in Madrid, near Joaquin Sorolla´s paintings, having the opportunity of studying in depth the use of color, light and the looseness of brushstrokes.
Her subjects include family members and friends, street performers, scenes of the Mexican Culture, flowers and childhood scenes.
Her work has achieved awards and recognitions, and it's been shown at several venues in Mexico, Venice, Milan, Madrid, Luxembourg and Paris.
Marilupe is looking to portray the reality of the everyday human nature and the small moments of life. Her wish is that through her art, she can help the world to notice the poorest and most disadvantaged people in our society. Pursuing her love for art, light and color; she keeps moving forward to find a place in International Art as a Mexican woman; working to bring Figurative Art to interest among actual collectors and young people. Always with the purpose to enrich people´s lives, bringing images that inspire and accompany them.